About Us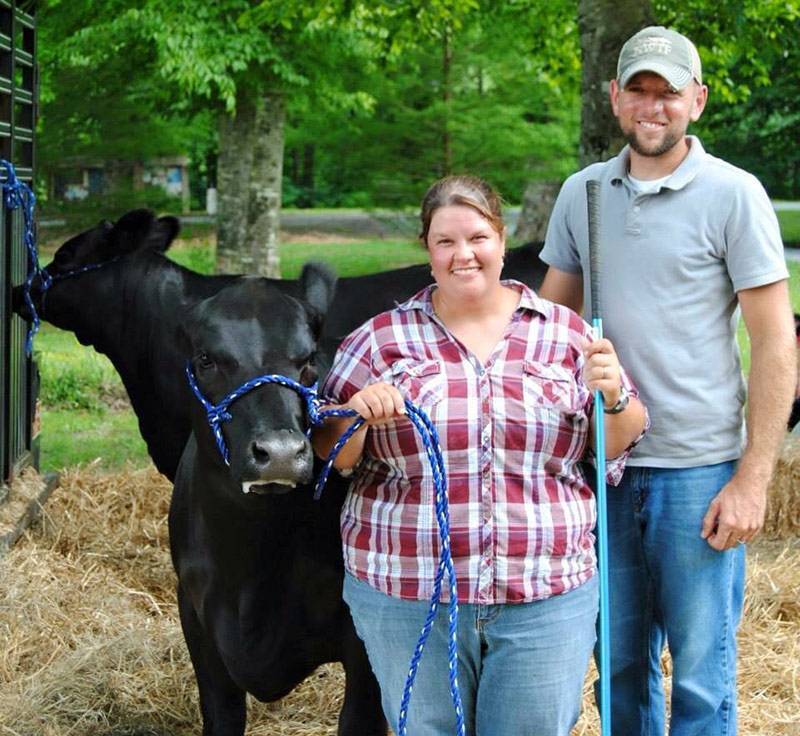 Legacy Farms is a registered Angus cattle operation located in south central Kentucky.  After meeting in college while pursuing agriculture degrees, we realized our shared passion for the cattle industry and worked to start our farming operation in 2008.  Although we both come from multi-generational farm backgrounds, the vision and scope of our pursuit didn't fit with our families' existing operations.  So we started our own business from the ground up.  In today's times of high cost and variable inputs our growth has been challenging, yet rewarding.

Currently our herd consists of 100 head of mature Angus cows.  Summer grazing is primarily on fescue pastures while winter feeding is a combination of corn silage, millet and ryegrass haylage, and orchardgrass and alfalfa hay.  The majority of our herd is on a spring calving schedule (January – April), but we do have a small group that calves during the fall (August – October).  We extensively use artificial insemination and embryo transfer in our breeding program to highlight our best genetics and also bring in outcross lines.   Cattle are marketed through consignment sales and private treaty off the farm.  We have bull and female lots consistently in the Kentucky Angus Sweepstakes, Great Meadows Angus Association spring and fall sales, and the Central Kentucky Angus Association sales.

The basis of our cow herd has been centered around functionality.  We select for sound structured cattle with skeletal width and dimension that have eye appeal.  Combining this phenotype with performance and longevity, we breed cattle with the right design.  We strive to breed females who are easy fleshing, balanced, and produce consistency.  We focus to produce bulls who make gain impacts while siring replacements that our commercial and registered customers are looking for.

In an effort to diversify our farm we started marketing our homegrown Choice Angus Beef in 2014.  Our grain finished beef is dry-aged for 14-21 days and is processed in a USDA inspected facility.  Initially the marketing of beef retail cuts was solely through farmers markets.  We wanted our customers to connect with our farm as much as us and our farm story.  Our solution was to host meat sales at the farm.  Every Saturday from 9 am to 2 pm you can shop our Kentucky Proud meat market at our home, conveniently located on Hwy 31E.  We carry a large variety of steaks, roasts, burger patties, hotdogs, ground beef, summer sausage, and more!  All from cattle raised right here on our farm.  Visit the retail meats tab for current pricing and ordering information.

We are grateful and proud of the progress we've made in establishing our farm, owing this to our customers.  We truly appreciate your belief and support in our program.  When we started chasing this dream we wanted to build something that would sustain over time and have meaningful substance through relationships of professionalism, integrity, and honesty – we set out to build a Legacy.

Please visit or contact us anytime!


Daniel and Lindsey Reynolds